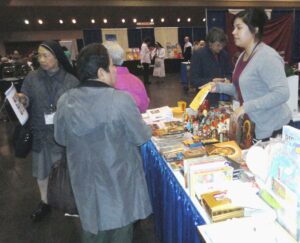 Conferences, Speakers, Radio & TV
Check out our calendar of upcoming events to learn when and where our priests and mission representatives are speaking, hosting booths at conferences, or appearing on radio or television.
Also take a look at our new Speakers' Bureau.  Just in time for 2017 — the 100th anniversary of the Blessed Mother's appearances in Fatima — we can join your parish or conference and speak about the Fatima messages and the conversion of Russia.
Letters & Updates
Sign up to receive our free newsletter or to read back issues.
Read the update and thank-you letters from Fr. Myron.
2015 Mission Video
To see our mission video that was released in 2015, click here to watch it on YouTube.  The video is 40 minutes in length.  You can also contact the mission office if you wish to receive DVDs to share with others.
Archives
Our old mission video that has aired on EWTN
---
A presentation by Sr. Maria Stella, CJD can be found here.
---
To read a National Catholic Register article about the Soviet war on religion click here.
---
Another article from the National Catholic Register discusses our Sisters in Jesus the Lord and their preparation for work in Russia.
---
An article in the Denver Catholic Register about Russia's new Catholics