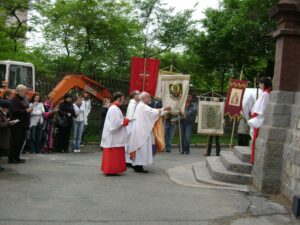 You can join us in this exciting mission work by helping us in any number of ways.
Of course, we ask everyone to pray for us and for our brothers and sisters in Russia. But we also provide the opportunity for Masses in Russia to be offered for your intentions.
We gratefully accept donations, either via regular mail or online. In addition, we are set up to receive contributions via bequests or donations of stocks, bonds, and securities.  Finally, we have a number of ways for supporters to "painlessly donate" by patronizing certain businesses.
For those who wish to become even more active, you might consider hosting one of our speakers at your parish or local conference. You might also want to initiate a sister parish relationship with a Russian parish or program.  If you enjoy meeting people and would like to introduce them to the mission, think about becoming one of our conference representatives.
And, for our more adventurous supporters, we invite you to join one of our mission trips!
If you wish to help us in any way, please contact our mission office first. We can help you get started.