Want to be a "Guardian Angel" for a needy child?
Through a monthly sponsorship, a supporter can provide the nutritional supplements, clothing, health care, and educational supplies a child needs to thrive in Russia.
Most children who need sponsors live in homes with single mothers. Because they cannot afford their children's food and clothing, some moms are forced to send their children to orphanages. But Guardian Angel sponsorships can help mothers keep their children at home, thus keeping families together.

Here's how it works. Anyone who is interested may contact either Fr. Myron or our mission office in Modesto. The mission office then corresponds with the potential Guardian Angel and sends a portfolio of all the children who need help. We also send an instruction sheet on how to proceed with the program, a donation form, a mission brochure, and a prayer card.
The sponsor chooses which child he or she wishes to help, and also determines the monthly dollar amount of their sponsorship. The sponsor then contacts the mission office and submits the donation form. Sponsorships are not "active" until contributions actually begin.
Some children might have exceptional needs that are not covered by their Guardian Angel's sponsorship. In these cases, we help them by finding a second Guardian Angel. In addition, we can help them with emergency assistance from our Guardian Angel general fund. Guardian Angels may also add an extra gift to their monthly commitment at any time.
In addition to providing financial help, the sponsor may also write or send cards to the child. School-age children may write back. All correspondence is translated by one of our liaisons in Russia.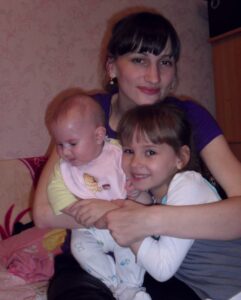 Sponsorship is an ongoing relationship that may last many years. Guardian Angels who wish to meet their sponsored child may do so by joining one of the mission teams that come to Russia during the year. This provides a wonderful opportunity to see the difference your gifts are making and to gain an understanding of Russian life and culture.
Many people discover the unexpected rewards of being a Guardian Angel. They find that they can deepen their relationship with the child and with God. Through personal letters and photos, they are inspired as they follow their children's progress and growth. They also gain a deeper understanding of poverty, and develop friendships with families from another culture.
To become a sponsor, contact us. To make a one-time contribution to the Guardian Angel fund, click below.