Priests
V. Rev. Myron Effing, CJD was ordained in 1972 by the diocese of Fort Wayne-South Bend.  For the next 20 years, he served in a number of capacities—as a science educator, school administrator, vocations director, religious superior, and seminary rector.  In 1991, he became one of the first priests to serve in the Russian diocese of Novosibirsk. He also is the founder and superior of the Order of Canons Regular of Jesus the Lord (CJD).
---
Fr. Daniel Maurer, CJD of Michigan, was ordained in 1992 by Most Reverend Joseph Werth, SJ, Bishop of the Russian Diocese of Novosibirsk. His was actually the first ordination in the enormous diocese of Novosibirsk, and the second in the entire country since the fall of communism.  In Russia he has worked as associate pastor, pastor, and as director of liturgical music and sacred music programs.
---
Fr. Inosensius Hetu, CJD hails from Mauloo, Flores Island, Indonesia, and had already completed seminary when he sought to join the order and begin his novitiate. Before he was ordained, he had already organized a group of seminarians who were interested in joining the order.  He had also served as a theology teacher and vocations speaker. After his ordination in 2013, he became superior of the nascent community in Maumere, Indonesia.  At present, Fr. Ino is working toward a PhD in Development in the Philippines.
---
Fr. Ferdinandus Wele, CJD is from Ende, Flores Island, Indonesia, and is the 4th priest in the order.  Like Fr. Ino, he had already completed his studies by the time he discovered the order.  Fr. Ferdi is known for his winning smile and for his quick response to any problem or emergency.  He was ordained in 2016 and is now helping to oversee the community of seminarians in Indonesia.
---
Fr. Jacob Dambe, CJD is from Sulawesi Island, Indonesia.  Before coming to us, he had worked for several years as a parish catechist in Papua, New Guinea.  Fr. Jacob has an interest in agriculture and gardening and, during his novitiate year in Vladivostok, tended the parish garden.  He was ordained in January of 2017 and now serves as the Dean of Students for the community in Maumere.
---
Fr. Yohanes Marinus, CJD is from Enak, Indonesia.  He had been the general manager of a hotel business in Jakarta, when his boss met Fr. Myron and insisted that Yohanes should be a priest.  Shortly thereafter, Yohanes returned to the seminary, and eventually completed his novitiate in Vladivostok. While in Russia, he became popular with children at the orphanage for arranging and coaching soccer teams.  Ordained in 2017, Fr. Yohanes now serves as econome and as acting local superior of the community in Maumere.
---
Fr. Jose Unlayao, CJD grew up in the Philippines and completed his seminary studies in 2008.  He then worked as a school chaplain and theology teacher.  Not long after discovering the order, he became involved as a novice, serving the Church in Vladivostok.  Later, he moved to the diocese of Las Vegas where he was ordained in 2017.  Fr. Jose has a Master's degree in Moral Theology.  At present, he is part of our new community in Las Vegas, serving our sister parish of St. Joseph Husband of Mary.
---
Fr. Luis Van Dam, CJD hails from Vietnam and was also ordained in 2017.  Before coming to Vladivostok, he served as a high school theology teacher.  During his time as novice, he became a favorite among the hospice patients for his concern for their welfare.  He now serves in the diocese of Las Vegas, helping with the needs of the Vietnamese community there.
---
Fr. Reminus Hambur, CJD grew up on Flores Island, Indonesia, but has also spent some time in Pontianak, Borneo.  As a child, his love for the Bible was nurtured by his grandfather, who told him Bible stories about Moses, Abraham, David, and other heroes.  Fr. Reminus is polite, kind, friendly, and quick to help anyone with a problem.  After attending minor seminary, he tried life as a monk.  However, his desire to continue toward the priesthood won out.  He joined our order because he is interested in working as a priest in Russia.  He was ordained to the priesthood in November 2017.
---
Seminarians
Brother Patrick Napal, CJD is from Davao, Philippines. He is a terrific cook and while in Vladivostok as a novice, he became everyone's favorite pastry chef.  He also won many hearts at the orphanage and at the hospice facility, where he was known for his helpfulness and gentle ways with the patients. At present, he is in major seminary in Kazakhstan, where can continue to use his Russian.  After his ordination to the priesthood, he hopes to serve in Russia.
---
Brother Nikita Kushnaryev, CJD is from Rostov-on-Don, Russia, and completed his Master of Theology in Poznan, Poland.  Before his seminary days, he worked as a bartender, barber, and parish staff member.  His hobbies include gardening and listening to Baroque music.  He is a very hard worker and assists the priests in their pastoral duties.  After his ordination, Brother Nikita will become a great help in evangelizing his fellow Russians and sharing God's love with them.
---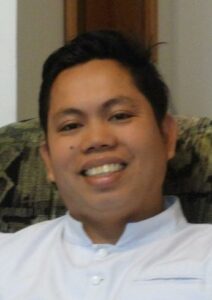 Brother Dindo Calvo, CJD is from Surigaodel Sur in the southern part of the Philippines.  He was a junior high English teacher who also took the opportunity to teach English to Myanmar refugees in Thailand.  He loves to play basketball, football, and table tennis.  Bro. Dindo speaks several foreign languages, including Italian.  He has an Associate Degree in Philosophical Studies from the Pontifical Gregorian University in Rome and is currently in major seminary in Manila.
---
Brother Kumud Nayak, CJD grew up in India and speaks English, Russian, Italian, and Hindi.  For some time prior to his coming to Vladivostok, he served as the parish administrator in Dubai, UAR.  The parish has thousands of foreign Catholic members, but priests must fly in to celebrate Sunday Masses in a variety of languages.  Through his work in Dubai, he became familiar with numerous priests from all over the world.  We plan for him to join the CJD community in Las Vegas.
---
Brother Hubertus de Lopez, CJD is from Maumere, Indonesia, and grew up the youngest of 4 children.  Bro. Hubertus is very kind, always smiling, and friendly to everyone he meets. He is also an amazing musician, with talents as a singer, composer, arranger, pianist, and lyricist.  He wrote his own music for the Commons of the Mass, and everyone notes how melodic and creative it is.  He also won first place in the talent contest among students studying Russian at the Far Eastern State University with his song Vladivostok, which he sang while accompanying himself on the keyboard.  He is now completing his seminary studies in Pontianak, Borneo.
---
Brother Edwin Intan, CJD is from Cebu, Philippines. He is one of four children, but lost both parents in an automobile accident when he was very young. So, although he wanted to be a priest since childhood, he delayed his vocation in order to help his siblings. Meanwhile, he worked for 10 years as a factory foreman and translator. He speaks not only Tagalog and Cebuano, but also Korean, Japanese, Russian, and English.  During his year in Vladivostok, it became clear that his maturity, 10 years of work experience, and natural talents had formed him into a very good leader.  Also, he was great at explaining the Faith to his fellow students from China and North Korea. Currently, he is studying Theology in the Philippines. He plans to serve as a priest in Russia following his ordination.
---
Brother Harben Forte, CJD is from Quezon City in the Philippines. He has a Bachelor's degree in Business Administration with a minor in Religious Education.  At one time, he lived with the Benedictine monks, but decided that a more active apostolate was better for him.  Bro. Harben is a great cook and also terrific at repairing just about anything. When he saw the used and worn altar the Sisters were using on Russian Island, he asked if he could take a look at it. Not long after that, the Sisters had a beautifully refinished altar for their chapel.  At present, he is in major seminary in the Philippines and hopes to return to Russia after ordination.
---
Brother Augustinus Brusen, CJD is another seminarian from Flores Island, Indonesia.  After obtaining his degree in Philosophy, he became a Music, Sociology, and Catechetics teacher at the senior high school in Maumere. He is also an excellent choir director and, in Vladivostok, became a favorite soloist at community gatherings.  Bro. Augustinus is very quiet and very likeable. He is currently working on his Master's thesis in Maumere, Indonesia.
---
Brother Filipus Lasa, CJD is from Indonesia.  In 2014, "Lefi" completed his novitiate, which began in Russia and concluded in Indonesia.  He is now enrolled in the Theology program at major seminary in Maumere.
---
Brother Desideratus Mariano, CJD is yet another Indonesian with musical talent.  He began his novitiate in Vladivostok in December of 2016.  At that time he, like other novices, began his studies of the Russian language.  In the photo, he shows off his certificate from the Russian Language Festival which is sponsored by the 5 universities that teach Russian.  For his presentation, Bro. Desideratus sang a solo A White Angel which was a hit with the students.