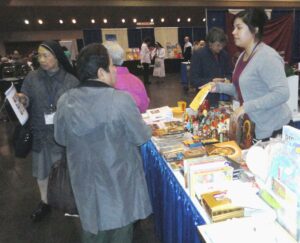 Conferences, Speakers, Mission Video, Radio & TV
Check out our calendar of upcoming events to learn when and where our priests and mission representatives are speaking, hosting booths at conferences, or appearing on radio or television.
Also take a look at our Speakers' Bureau.  We have a wonderful group of priests, deacons, sisters, and lay people who would love to come to your parish or conference and speak about the conversion of Russia, the challenges, and the victories.
A beautiful video profiling our work in Eastern Russia was released in 2015. With background music by the Most Holy Mother of God music program, this production focuses on many of the recent developments in and around Vladivostok. Click here to watch the 40-minute video on YouTube. For free DVD copies to share with your friends, family, or pastor, contact the mission office.
Letters & Updates
Sign up to receive our free newsletter or to read back issues.
Read the update and thank-you letters from Fr. Myron.
Archives
Our original mission video that has aired on EWTN
---
Our 2015 Mission Video, also on EWTN
---
A presentation by Sr. Maria Stella, CJD can be found here.
---
To read a National Catholic Register article about the Soviet war on religion click here.
---
Another article from the National Catholic Register discusses our Sisters in Jesus the Lord and their preparation for work in Russia.
---
An article in the Denver Catholic Register about Russia's new Catholics